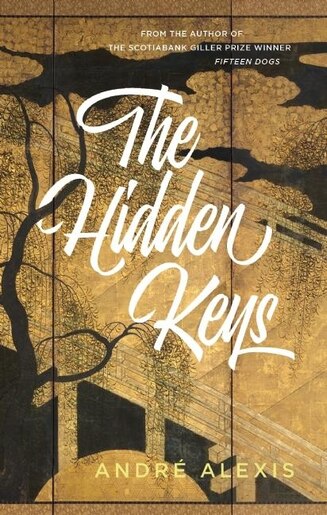 Parkdale's Green Dolphin is a bar of ill repute, and it is there that Tancred Palmieri, a thief with elegant and erudite tastes, meets Willow Azarian, an aging heroin addict. She reveals to Tancred that her very wealthy father has recently passed away, leaving each of his five children a mysterious object that provides one clue to the whereabouts of a large inheritance. Willow enlists Tancred to steal these objects from her siblings and help her solve the puzzle.
A Japanese screen, a painting that plays music, a bottle of aquavit, a framed poem and a model of Frank Lloyd Wright's Fallingwater: Tancred islured in to this beguiling quest, and even though Willow dies before the puzzle is solved, he presses on.
As he tracks down the treasure, he must enlist the help of Alexander von Wurfel, conceptual artist and taxidermist to the wealthy, and fend off Willow's heroin dealers, a young albino named 'Nigger' Colby and his sidekick, Sigismund 'Freud' Luxemburg, a clubfooted psychopath, both of whom are eager to get their hands on this supposed pot of gold. And he must mislead Detective Daniel Mandelshtam, his most adored friend.
Inspired by a reading of Robert Louis Stevenson's Treasure Island, The Hidden Keys questions what it means to be honorable, what it means to be faithful and what it means to sin.


About the Author
André Alexis
(born 15 January 1957 in Port of Spain, Trinidad and Tobago) is a Canadian writer who grew up in Ottawa and currently lives in Toronto, Ontario. He has received numerous prizes including the Windham-Campbell Literature Prize.
Alexis began his artistic career in the theatre, and has held the position of playwright-in-residence at the Canadian Stage Company. His short play Lambton, Kent, first produced and performed in 1995, was released as a book in 1999.[1] His first novel Childhood was published in 1998. Alexis published Ingrid and the Wolf, his first work of juvenile fiction, in 2005.
Alexis wrote the libretto for James Rolfe's opera Aeneas and Dido, which premiered at Toronto Masque Theatre in 2007.[2] He had previously worked with Rolfe twice before, on Orpheus and Eurydice (2004) and Fire (1999), and with Veronica Krausas.[3]
His novel Asylum was published in 2008, and is set in Ottawa during the government of Brian Mulroney.[4]
In 2014 Alexis published Pastoral, the first in a planned series of five novels on philosophical themes.[5] Fifteen Dogs, the second novel in the series, was published in 2015.[6] The third novel, The Hidden Keys, was published in 2016.
Alexis is a juror for the 2017 Scotiabank Giller Prize.[7]
Alexis lives and works in Toronto, where he has hosted programming for CBC Radio, reviews books for The Globe and Mail, and is a contributing editor for This Magazine. He is an Adjunct Professor in the MA in English and Creative Writing program at the University of Toronto, and was formerly Writer in Residence at the University of Ottawa, and a Barker Fairley Distinguished Visitor in Canadian Studies[10] at University College in the University of Toronto