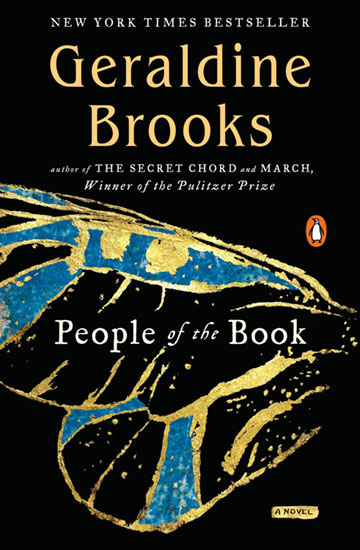 People of the Book
The choice of this book as "The Best" for this reading season is an interesting one for looking at our discussion notes from February there definitely were mixed reactions:
People of the Book
elicited varying responses from our members. Many loved the book or loved parts of the book, were fascinated by the historical and restoration details or were bored by them. All agreed on one thing – they disliked the ending.
The group's reaction is similar to that of the professional reviewers.

Some finding the amount of detail and the chronology clumsy, whiles others stated that both those elements were well-handled. Certainly Brooks set herself great challenges in research and in the structure of the book.

To build , populate, and plot the book based on the meagre evidence found in the Sarajevo Haggadagh is a major and risky undertaking. The work is not without flaws.
However, to us that is the strength of the author - her ability to take complex stories from history, weave them together and bring them to life in novel form. Her synthesis of the various threads of the story requires a particular talent. Choosing the art restorer to connect the elements did not seem/feel artificial. She writes very well, with detail carefully selected – we were able to see what she described. The work is very cinematic.
Fireside Readers
Suffice it to say that it's a book that resides comfortably in a place we too often imagine to be a no-man's land between popular fiction and literature. Brooks tells a believable and engaging story about sympathetic but imperfect characters -- "popular" fiction demands all of that -- but she also does the business of literature, exploring serious themes and writing
about them in handsome prose